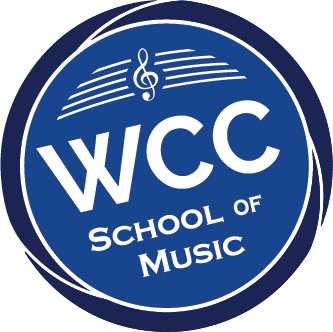 Develop Your Musical Instinct @ WCC
The Walton School of Music facilitates the meeting of student and teacher for the purpose of developing musical skill.
We believe discovery of God and discovery of music go hand-in-hand.
We believe good music is to be enjoyed.
We believe musical development enhances the ability to learn and grow in life.
We believe the gift of music will help change the world for the better.
We believe music tutoring can change and influence the Walton Community.
Some Benefits of Music Education
Music has an impact on brain development especially in early childhood education.
Playing an instrument strengthens hand-eye coordination and fine motor skills, as well as concentration, memory and attitude.
Research shows that music training improves reasoning in preschool children, which is necessary for learning math and science, as well as other subjects.
A recent study showed that a curriculum combining piano lessons, educational math software and fun math problems helped second-graders achieve scores on math problems comparable to those of fourth graders.
Students who make music have been shown to get along better with classmates and have fewer discipline problems.
Young people who are involved in making music in their teenage years score 100 points higher on the SAT than those who don't play music.
Senior citizens who are actively involved in music-making enjoy significant health benefits.
Studies show that older Americans who are actively involved in music-making show improvements in anxiety, loneliness and depression – three factors that are critical in coping with stress, stimulating the immune system and improving health.
LESSONS (PIANO/GUITAR/DRUMS)
Lessons (single student) take place once a week (time to be arranged with instructor) at Walton Christian Church (50 S Main St/Walton/KY).
Instruction is for 30 minutes (per lesson).
Minimum student commitment is four (4) lessons.
Student's parent/adult guardian MUST remain @ WCC while lesson is taking place. A comfortable sitting area is provided for waiting parent/adult guardian with guest wifi available.
A copy of weekly practice assignment/practice schedule will be given to student and parent/adult guardian after each week's session.
Payment is made to Walton Christian Church.
INSTRUCTORS
Please email instructor for schedule availability & cost.
PIANO
PABLO BENAVIDES
MUSIC DIRECTOR @ Walton Christian Church
ADJUNCT PROFESSOR OF MUSIC @ Northern KY University
M.A. JAZZ Texas Christian University
M.A. JAZZ University of Cincinnati College-Conservatory of Music
GUITAR INSTRUCTION
RYAN BOLDERY
Ryan Boldery holds a B.A. from NKU in jazz guitar performance. He has been a full time professional guitarist and instructor for over 8 years. In addition to teaching at Walton Christian Church, he teaches at the Cincinnati School of Music and has taught in the NKU Music Preparatory Program. He is the current lead guitarist for one Cincinnati's most popular wedding and event band, "The touchables". And has traveled around the United States with several other acts performing various gigs.
DRUMS INSTRUCTION
CHARLIE FOGLE
DRUMMER @ Walton Christian Church
STUDENT @ Simon Kenton High School